On October 1st, teachers and students of Wuhan Polytechnic (WHPT) who have participated in a half-month Sino-German Cultural Exchange Program in German comes back safely and fruitfully.
WHPT teachers and students visiting the BMW Welt in Munich
In late September, a delegation consisting of 11 students and 3 teachers of WHPT went to Germany to participate in a half-month cultural exchange program in Fach-und Berufsoberschule FOS/BOS Bad Tölz and, two vocational schools located in Bad tölz in the southern of Bavaria and Hof in the northeast of Bavaria respectively. The three teachers were Wang Chunlian from Int Fachoberschule und Berufsoberschule Hof ernational School, Wang Fang from School of Mechanical and Electric Engineering and Chen Lingling from School of Textile and Fashion Engineering. They were generously received by the two schools and sincerely welcomed by local citizens.
Group photo with German teachers and students
WHPT teachers and students teaching German teachers Tai Chi
During the visiting, the delegation joined diversified and deeply immersing cultural activities organized by German schools. They lived in German families by way of homestay to experience local folklore, participated in classroom study to comprehend German Dual System, visited the BMW Welt to understand German manufacturing industry, and joined the Oktoberfest to feel about German beer culture. During the half month, the delegation felt the emphasis on traditional cultures and hospitality of Germans as well as their life full of reasonable happiness and creativity.
Warmly welcomed in Bad tölz and appeared on local newspaper
On the afternoon of Sep 17th, the delegation arrived at Berufsoberschule FOS/BOS Bad Tölz, which is located on the upper part of the Isar River, and surrounded by mountains with exquisite environment. Our delegation was the first visitors from China to visit this vocational school, and was warmly welcomed and received. This event attracted the attraction of local media and a local newspaper interviewed our delegation and reported this Sino-German cultural exchange event.
WHPT teachers and students on local new paper in Bad Tölz
Mayor of Hof met the delegation and showed them around the city hall
On September 23rd, the delegation went to Hof city, which is also located by the Isar River. The mayor of Hof, who was pleasantly surprised at this visiting welcomed the delegation and introduced the city, ranging from transport to the purification system. The mayor then showed them around the city Hall and served them with traditional food.
Group photo with the mayor of Hof
In Hof, the delegation joined abundant activities with teachers and students in Fachoberschule und Berufsoberschule Hof. They also visited Hof University of Applied Sciences and learned a lot about education international students in Bavaria.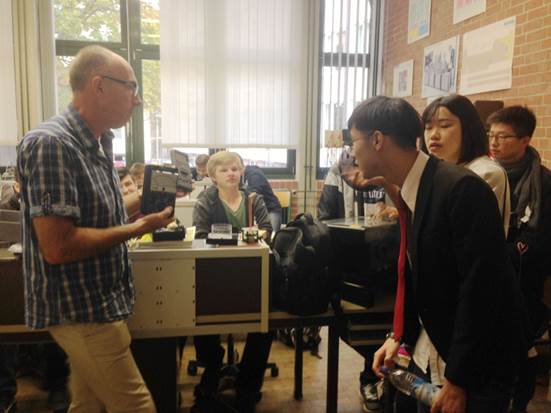 The delegation visiting the mechanical training center in Hof
Group photo with German teachers and students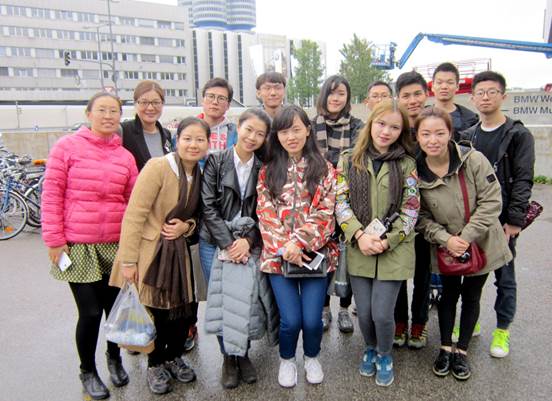 WHPT teachers and students visiting the BMW Welt in Munich