At the anniversary and conference
On November 27, the 10th Anniversary of partnership between Wuhan Polytechnic (WHPT) and Overseas Chinese University (OCU) as well as the 10th Cross-Strait Academic Conference 2015 were grandly held in Wuhan Polytechnic. The theme of the conference is "focusing on majors and courses, setting up higher vocational college of top quality". Delegates attending the event included a delegation of 18 vocational educators from Taiwan led by the Chairman of the Board of OCU Mr. Chen Botao and his wife Ms. Zhang Yuan, Prof. Ma Bixue, the former president of WHPT and current Chairman of Hubei Vocational and Technical Education Association, Ms. Deng Changqing, Chairwoman of WHPT Council and Mr. Li Hongqu, President of WHPT. An additional 170 delegates also attended the conference, including vice-presidents, deans, directors and faculty and staff representatives of all schools and departments of WHPT, as well as delegates from higher vocational colleges in Hubei province and from businesses. The conference was hosted by Mr. Xu Gongjin, the vice president of WHPT.
The conference was sponsored by WHPT and OCU, undertaken by WHPT and assisted by Regional Higher Educational Development Research Center, a key research base of humanities and social science in Hubei province. It was held after nine continuously successful academic conferences between the two schools. At the conference, President Li Hongqu of WHPT and Dean of Tourism and Hospitality School of OCU, Mr. Wang Yaoming, gave a theme speech respectively, and the teaching staff who have contributed to the 10 years' cooperation between WHPT and OCU and the cross-strait academic conferences were awarded. In addition, two forums - "Logistics and Commerce" and "Tourism and Hospitality" were established.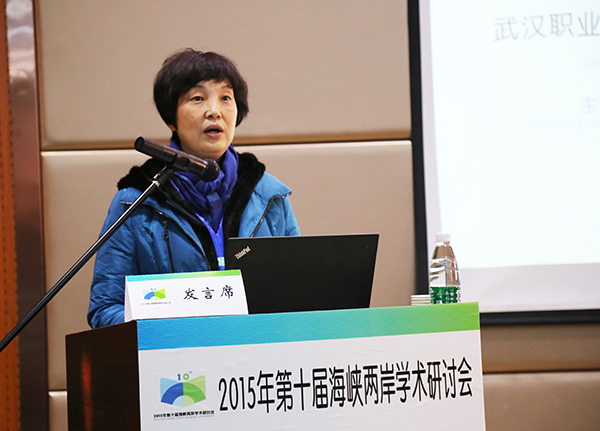 Deng Changqing, Chairwoman of WHPT Council addressed at the conference
The conference commenced at 9 a.m. on November 27. Chairwoman of WHPT Council, Deng Changqing, gave an opening speech and extended her warm welcome on behalf of WHPT to Chen Botao and his colleagues as well as guests and scholars at the venue. She reviewed and summarized the cooperating history between WHPT and OCU and the Cross-Strait Academic Conferences, analyzed the current economic and social situation of vocational education and made an expectation on the cross-strait development tendency and cooperation of higher vocational education.
Deng Changqing noted that the partnership between the two schools started under the push of Ma Bixue, the former president of WHPT, and Chen Botao, the Chairman of the Board of OCU a decade ago. Under this partnership, WHPT and OCU have gradually developed an academic cooperation mechanism of co-sponsoring the Cross-Strait Academic Conference undertaken annually by both parties in turn. The pioneering work of the two presidents has laid a solid foundation for the two schools' cooperation and exchange. Over the past ten years, by cooperating with and learning from each other, both parties have made great progresses. As a result, WHPT has developed into one of the nation-wide top institutes of higher vocational education with its excellent school-running performances through two projects - National Talents Cultivation Level Evaluation and National Exemplary Higher Vocational Institutes Construction. OCU has also stood out in the fierce competition and successfully upgraded into a famous university of science and technology in Taiwan in 2009 from a small technical college. During the ten years, the cooperation fields and content between both parties have been constantly widened and innovated, ranging from academic conferences and faculty exchange to student and student affairs exchange, from pure academic paper presentation to multi-angle and diverse exchange in education and teaching, in discipline and course development, in classroom teaching mode and in administrative management. These cooperation has led to productive performances. From 2005 until now, the Cross-Strait Academic Conference co-sponsored by both parties has been held successively for ten times. According to incomplete statistics, delegates from more than 20 colleges and universities across strait attended the conference, which not only included vocational colleges, but also internationally well-known universities like Huazhong University of Science and Technology, Wuhan University and Zhongnan University of Economics and Law. Over 200 academic papers were presented at the conferences, around 300 teachers and students from both parties were involved in the academic exchange, and altogether well over 3000 people attended the conferences.
Deng Changqing emphasized that opening promoted development and cooperation produced achievements. Over the past decade, great changes have taken place across the straits, with the cooperative communications being more convenient, the cooperative patterns being more various and the cooperative fields being much deeper. Standing on the new start of history, she believed the cross-strait cooperative communication prospects were absolutely more expansive.
Deng Changqing indicated that at present the rapid development and widespread application of modern information technology such as the Internet, cloud computing, big data were profoundly changing the human production, living, learning and ways of thinking, which impressively displayed the prospects of world development. With the development of information technology, the most urgent things we needed to do were to promote educational reform and innovation, build the educational system which is networking, digital, personalized and lifelong, construct a learning society where all people learn and can learn anywhere and anytime, and cultivate a large number of creative talents. Under this background, with the development of cross-strait economy and industry increasingly in sync, the industrial structure and talent structure on both sides were facing upgrading challenges. The industrial upgrading would drive the change of demand structure of talent cultivation, and the demands for upgrading talent specification and talent quality. Under this background, it would be a common issue for vocational colleges across strait how to make talents with higher vocational education better adapt to market and meet the needs of industries, how to make efforts to improve the quality of technical skills training, and how to solve vocational education problems from the supply side.
Chen Botao, Chairman of the Board of OCU Addressed a Speech
Mr. Chen Botao, Chairman of the Board of OCU mentioned in his speech that the vocational colleges across strait should make joint efforts to cultivate more excellent talents for cross-strait economic development, making efforts to contribute their strengths for the powerful renaissance of Chinese nation. They should make efforts to explore and research the new situation and new problems arising from cross-strait educational cooperation.
Awarding Ceremony of the 10th Anniversary of Partnership between WHPT and OCU
After the grand opening ceremony, the awarding ceremony of the 10th anniversary of partnership between WHPT and OCU was held. Deng Changqing and Li Hongqu granted the Merit Awards to Chen Botao and Ma Bixue; Chen Botao granted Outstanding Contribution Awards to Zhang Yichan, Peng Zhenyu and Zhang Mingyong from Wuhan Polytechnic. After that, Vice President of Wuhan Polytechnic, Hu Xuezhi, issued Outstanding Contribution Awards to Zhang Yuan and Fu Xiuren from OCU.
In the afternoon, Logistics and Commerce Forum and Tourism and Hospitality Forum were held in the School of Business and School of Tourism and Aviation Services of WHPT respectively. Logistics and Commerce Forum was hosted by Xi Bo, the Associate Dean of the School of Business, and the other forum by Xiong Hequn, the Chairwoman of School Council of School of Tourism and Aviation Services. More than 60 professional teachers from WHPT and OCU joined the forums and exchanged ideas thoroughly in course development and discipline construction in the field of logistics and commerce, and tourism and hospitality.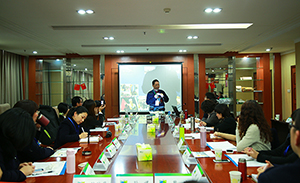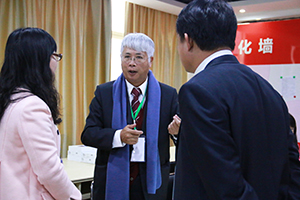 Logistics and Commerce Forum Tourism and Hospitality Forum